DOLIBARR, una soluzione professionale Open Source ERP e CRM 
Dolibarr ERP & CRM è un pacchetto software moderno e facile da usare per gestire la tua azienda (clienti, fatture, ordini, prodotti, scorte, ordine del giorno, e-mail, spedizioni …).
Su questa piattaforma, insieme al partner O.P.G. siamo in gradi di fornire consulenza, formazione, supporto tecnico, hosting e prioritariamente sviluppo personalizzato.
In MENTEFRESCA abbiamo sviluppato per oltre 35 anni sistemi informativi ERP o integrati per la pubblica amministrazione locale, per ospedali ed ASL oltre che nei consorzi socio assistenziali. Lavorando in collaborazione stretta con funzionari, dirigenti ed operatori sia amministrativi che clinici abbiamo conosciuto "dal di dentro" le macchine organizzative e gestionali dei queste realtà portando a regime soluzioni condivise, innovative, leggere e facili da utilizzare.
Anche il nostro partner O.P.G. dai primi anni 80 ha lavorato mettendo al primo posto valori quali la professionalità, la competenza e l'affidabilità al servizio della attività dei clienti. O.P.G. è un azienda altamente specializzata nell'offerta di soluzioni ERP e di consulenza per le piccole/medie imprese. La sua struttura è in grado di fornire alla propria clientela strumenti e applicazioni software, progettate e sviluppate al proprio interno, le competenze relative ai più diffusi e completi sistemi Open Source ERP e CRM, ma anche la possibilità di ottenere personalizzazioni, verticalizzazioni o intere soluzioni ad-hoc.
Le competenze complementari che queste due realtà mettono insieme generano un valore superiore alle singole parti, generando valore aggiunto per i clienti, pubblici o privati che siano, generando risparmi significativi e permettendo il raggiungimento di maggiore efficienza ed efficacia dei propri sistemi e dei propri flussi operativi.
Per le realtà che non si accontentano delle soluzioni standard ma desiderano adottare sistemi informativi su misura seppur garantiti da standard e moduli internazionali e garantiti nel tempo, MENTEFRESCA ed O.P.G. sono, insieme, interlocutori che vale la pena prendere in considerazione.
Con Dolibarr, abiliti solo la funzione che ti serve. Quindi, qualunque sia la vostra esigenza di gestione aziendale (vendite, risorse umane, logistica, scorte, fatturazione, contabilità, produzione, ecc.), sarete in grado di configurare l'applicazione in base alle vostre esigenze e alle vostre necessità. L'integrazione tra le funzionalità / i moduli che decidi di utilizzare è pronta "in-the-box", quindi, anche senza personalizzazione, gli utenti sono immediatamente pronti a lavorare.
Poiché gli aggiornamenti della nuova versione sono integrati nel processo di sviluppo, è possibile eseguire l'aggiornamento in qualsiasi momento all'ultima versione, qualunque sia la versione corrente, senza perdere alcun dato. Gli utenti di Dolibarr beneficieranno sempre delle ultime funzionalità e innovazioni.
Un modello FOSS (Free Open Source Software)
Il modello Open Source e gratuito ci consente di fornire una soluzione competitiva: diverse migliaia di sviluppatori, tester e traduttori lavorano al progetto. Ecco perché è possibile essere sempre all'avanguardia nell'innovazione.
Inoltre, questo modello ci consente di avere una base di utenti molto ampia, quindi possiamo migliorare l'interfaccia utente da molti feedback. Questo è un fattore importante per cui Dolibarr è noto per essere il più facile ERP e CRM del mercato.
Un modello multi-distribuzione in un ricco ecosistema
È possibile installare e utilizzare Dolibarr come applicazione autonoma o online su un server condiviso o dedicato o una macchina virtuale per utilizzarlo da qualsiasi luogo, qualsiasi desktop, tablet o smartphone. È disponibile in varie forme: dai pacchetti di installazione automatica che installano Dolibarr e tutti i prerequisiti senza bisogno di conoscenze tecniche, alla distribuzione standard che funziona su tutte le piattaforme del sistema operativo e l'architettura PHP (Windows, Mac, Linux). Dolibarr è ovviamente disponibile come applicazione SaaS su servizi cloud pronti all'uso.
Poiché si tratta di software Open Source, puoi fare affidamento sulla società Open Source di tua scelta per assisterti o realizzare uno sviluppo personalizzato se necessario.
DOLIBARR – MODULI STANDARD
Contracts, Subscriptions
webmaster
2020-02-06T14:35:50+00:00
Contracts, Subscriptions
Manage customer / supplier contracts or subscriptions.
Generate recurring invoices of subscription automatically.
Create Contract with subscribed services
Create your contract from your prospect/customer sheet, or in one click by reusing a proposal or an order.
Include predefined products/services to save you time, or enter full content manually.
If predefined fields does not match your needs, add your own fields of any type (string, amount, date, checkbox, combo list, ) to the form.
A PDF of your contract is automatically generated and updated.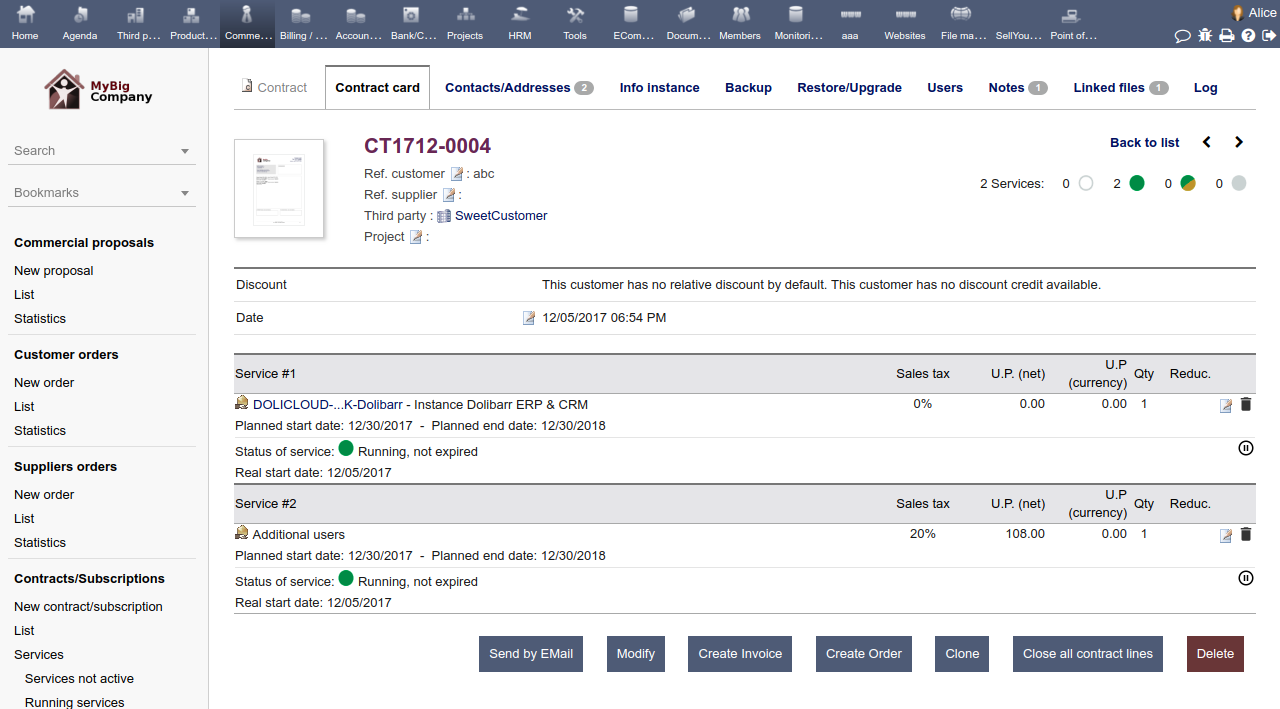 Change status of your services ("Running",  "Disabled") and end date at any time.  Attach notes or files to your contract.
Convert your customer contract into one shot or recurring invoices
You can convert your contract into one or several invoices. If your contract is dedicated to follow a recurring service, convert it into a recurring template invoice: Define the frequency, amount, date of first invoice and/or a maximum number of invoice. Your template invoice will be pre-filled with data of your contract services, then invoices will be generated automatically.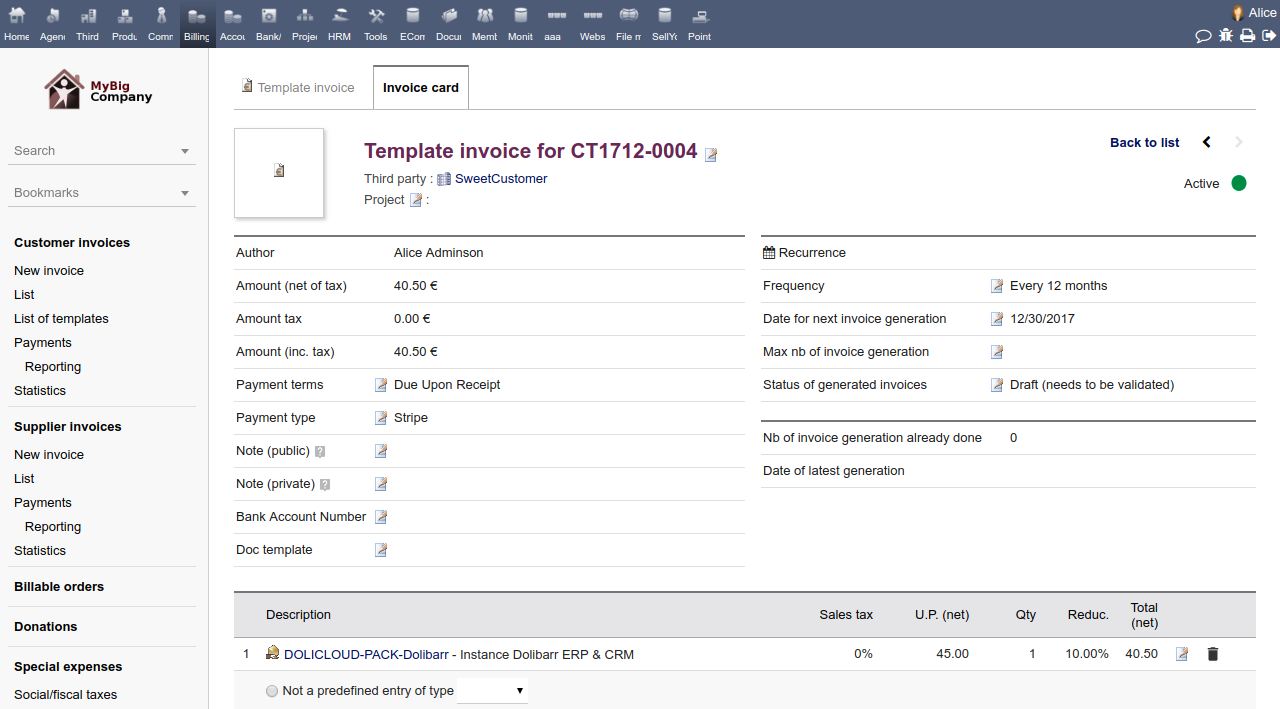 A link is saved between your template invoice and your contract so any generated invoices will also be linked to your contract.
You can change, at any time, the content of your contract or the content of your template invoice (so the way you will bill your customer) independently.
Follow and manage your contracts and services
Check which service is expired or about to be expired. Renew your contract / service end date or close them if required.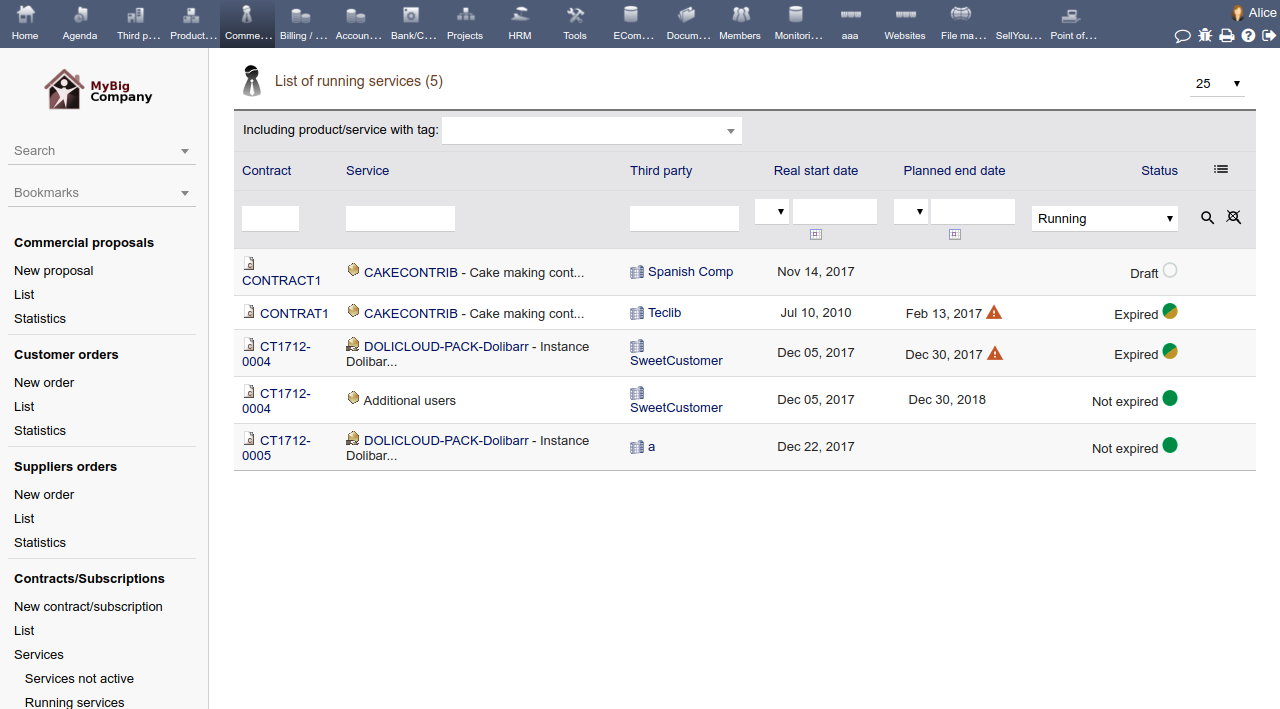 Export your Contracts and services with their status with the Export module to reuse them with third-party tools, or connect directly your existing BI suite to the open database for Big Data analysis.
DOLIBARR – moduli realizzati di O.P.G.
In questo contesto O.P.G si pone come partner accreditato a sviluppare moduli 100% compatibili con la suite DOLIBARR e può supportare l'impresa per tutto quello che riguarda la consulenza, l'hosting, l'installazione, la formazione, il supporto tecnico e sopratutto la personalizzazione.  L'esperienza decennale sulla Suite Dolibarr e le competenze tecniche permettono la realizzazione di moduli personalizzati che, integrando le funzionalità base di Dolibarr, lo adattano alle specifiche necessita dei clienti.
CRM Avanzato
webmaster
2020-02-06T18:09:19+00:00
CRM Avanzato
Il modulo "CRM Avanzato" inserisce in Dolibarr funzionalità tipiche dei prodotti CRM (Customer Relationship Management) avanzati.
Tutte le "attività" effettuate verso il cliente sono assegnate ad un dipendente, tracciate e categorizzate,
Le mail e gli SMS inviate a i clienti sono inoltre  automaticamente inseriti nelle "attività".
La gestione delle Campagne a cui tutte le attività possono far riferimento unitamente a strumenti di analisi e statistiche completano le funzioni del modulo.